Our Program
The National EAA Young Eagles program has flown more than 2 million boys and girls between the ages of 8 and 17.
Chapter 301 has flown more than 7,000 Young Eagle flights in the Denver area. Flights are completely free, and we strive for one child per plane to give everyone an opportunity for "stick time."
Both individuals and groups are welcome! The program is a popular option for Denver area Scouting groups and great for Girls Scout Brownie Fly-Ups, Cub Scout advancements and merit badge activities.
For more information, Contact:
Rudy Kniese -Young Eagles Coordinator
(303) 549-7944
crkniese@gmail.com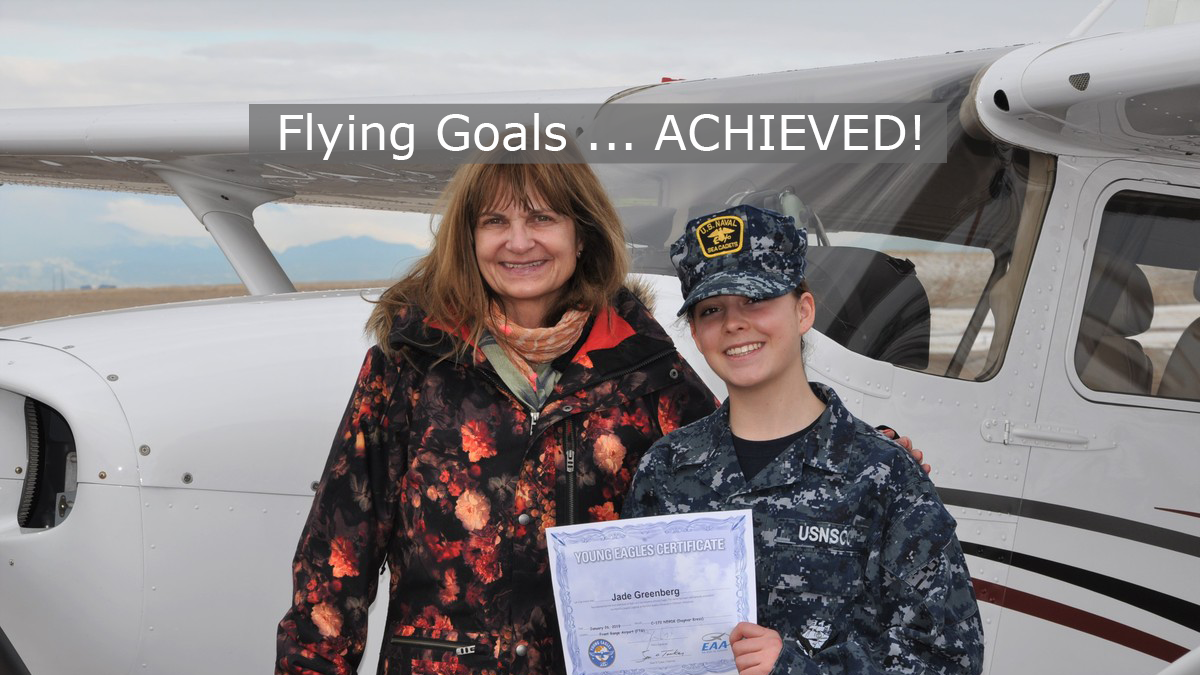 Sign Up!
Chapter 301 Young Eagles flights are a 2 day event.
Friday - Day 1 is a required Ground School the afternoon before the flight. Typically 7-9pm at the Chapter meeting location
Saturday - Day 2 is the day of the flight. Typically at the Front Range Airport in Watkins.
Note, Friday ground school attendance is mandatory.
To sign up your children for one of our upcoming Young Eagles rallies, please select a Friday+Saturday date to attend and contact:
Young Eagles Coordinator
Rudy Kniese
(303) 549-7944
crkniese@gmail.com
2019 Schedule
Fri Ground School + Sat Flight
May 24 + 25
June 28 + 29
July 26 + Aug 3
Aug 23 + 24
Sept 27 + 28
Oct 25 + 26
Nov No Flights
Dec No Flights
Volunteer Pilots
If you are interested in volunteering as a Young Eagle pilot the chapter requires:
Pilot must be an EAA National member, have logged a minimum of 300 total flight hours, all required currencies for pilot and aircraft, $100,000 passenger liability insurance, and completion of the Youth Protection Program online.
For every event we can always use non-flying volunteer help too. To get involved contact Rudy today!
Young Eagles Coordinator
Rudy Kniese
(303) 549-7944
crkniese@gmail.com